Hosting a business open house is an exciting event as you welcome customers, colleagues, and your community into your store or offices. As you consider the food and drink menu, decor, and florals, you might be thinking of creative ways to highlight your brand. At Floral D' Amore, our professional team of outside-of-the-box thinkers is here to spark some unique inspiration that is sure to take your business open house to the next level. By incorporating your brand colors, taglines, logos, and other elements that tell the story of your company, attendees can admire the beauty of floral designs while learning more about your business and connecting in a new way. From conversation starters and showstopping displays, amazing flower arrangements can also encourage guests to mingle and interact with each other and your team.
Stimulate Interaction With Comment-Worthy Centerpieces
If your business open house includes a cocktail hour or casual setting where guests are walking around, sipping drinks, and enjoying appetizers, then tables are a must-have. While we recommend adoring tall cocktail tables with linens or cleaning tables around the office, you can also dress them up with small floral arrangements. These low yet luxe flower designs are perfect conversation starts that won't obstruct any views. Rockstar blooms like peonies, which symbolize good fortune, luck, and prosperity, are excellent choices.
Add Drama To Your Business Open House With Tall And Colorful Floral Arrangements
Once you have considered your centerpieces, think about filling the rest of your space with thoughtful arrangements that are tall and add colorful levels throughout the atmosphere that match your brand. These types of flower designs are sure to catch the attention of guests while creating drama and sophistication to your business open house. Incorporate blooms that naturally stand tall, such as delphinium and gladiolus, and add accenting greenery — the color of luck, harmony, and money — for contrast and balance.
Create An Air Of Interest With Stunning Doorway Accents
The first thing people will notice when they arrive at your business open house is the entryway. Create an inviting and warm welcome around your doorway, or in the front of your business, with fresh blooms that set the perfect tone for your event. Whether you display classic floral arrangements or design custom pieces that complement the existing architecture, consider utilizing green orchids. Infused with tropical beauty and allure, green orchids signify a successful career and abundance while creating the perfect first impression.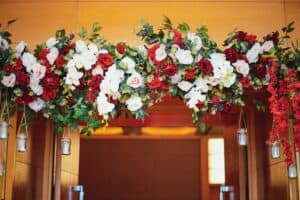 Boost Your Business Brand With Bountiful Flower Garlands
Celebrating a work milestone during a business open house might call for some more festive types of flower decor, such as fresh garlands. While bringing in fun and celebratory blooms, you can still add a professional touch to flower garlands by using the right type of blooms. Roses, for example, are popular, sweet, fragrant, and versatile and come in all different colors so you can match your brand color. Orange roses, in particular, represent success, enthusiasm, and creativity, which make them a great choice for your business event.
Accent Your Business Open House With Sophisticated Floral Wreaths 
Another creative way to incorporate branding through flower designs is hanging floral wreaths on doors and walls. While this is a popular holiday design trend, choosing bright and colorful blooms that match your brand will make floral wreaths perfect for any time of year. Additionally, you can display your logo, slogan, or abbreviation of your business name in the center of the wreath to increase brand awareness. If you're searching for the ideal flower to include in your wreath, turn to lucky chrysanthemums.
Create A Buzz On Social Media With Elegant Flower Walls
The ultimate buzz-worthy floral accent for any event, especially a business open house, is a flower wall. Choosing a specific wall in your store or office to adorn with beautiful blooms, like striking amaryllis and vibrant greenery, makes for a fun, fresh, and fantastic backdrop for photos. As your team and guests enjoy their evening, they will surely be drawn to that bright and alluring floral wall where they can take pictures and show them off on social media — where they will hopefully tag your business!
Add Extra Flair To Your Business Open House With Customized Flower Sculptures 
The last way to incorporate your brand into fresh flowers during a business open house is a real showstopper. Custom and out-of-the-box flower sculptures that speak to your business, mission, values, services, or products are a true expression of your company that will certainly not be missed during your event. While a commonly used flower for this type of blooming art is the carnation, new varietals like antique carnations are brilliant options to elevate both your brand and your event.
While planning your next business open house, don't dismiss the impact that flowers will have on your event and your brand. Work with Flora D' Amore to create strategic floral designs that will set you up for success.