Weddings with a boho style embody the essence of freedom, nature, and creative expression. "Boho," short for "Bohemian," originated from the Romani people assumed to be from the Bohemian Kingdom. While the original boho aesthetic stems from imitating the style of Central European Romani with nomadic, anti-bourgeois elements, it has evolved over the years. Today, the term "bohemian" is now a common way to describe the spirited and eclectic style of the '60s and '70s. Bohemian or boho usually relates to an artistic, unconventional lifestyle and look that became popular with artists, writers, and intellectuals who live in a way that goes against traditional norms.
Whether fashion, home decor, or wedding decor, you can easily spot boho style by its mix of colors, patterns, and textures. The aesthetic often incorporates elements inspired by various cultures from around the world and typically has a relaxed, free-spirited vibe. Boho fashion might include items like maxi dresses, wide-brim hats, fringe details, and lots of layered jewelry while home decor is inspired by vintage furniture, layered rugs, floor pillows and poofs, a collection of plants, and earthy pottery.
While every boho wedding is sure to be unique, there are a few common decor elements that create this distinctive style such as macrame, lace, big flowing sleeves, flower accessories like crowns, vintage seating, and a variety of textures and patterns. Of course, floral bouquets, arrangements, and natural wedding decor play a large role. Here at Flora D' Amore, we love designing all types of boho weddings, from bold color palettes to neutral tones and rustic decor to a luxe aesthetic. Find out below which vibe fits your personality and style and which flowers are best to bring your bohemian wedding to life.
The Perfect Boho Blooms
Flowers play an integral part in all nuptials, but they especially set the tone for boho weddings. Their "untamed" or "wild" appearance with loose, free-form arrangements echoes the spirit of this style. Popular flower choices often include wildflowers, pampas grass, protea, roses, and peonies, each lending its unique touch to the overall theme.
Fresh Stems for Neutral and Natural Boho
A neutral or natural boho style incorporates earthy colors like peach, ivory, and white. These hues can be brought to life through florals and greenery like eucalyptus, pale pink roses and spray roses, white orchids, pampas grasses, and foxtail grass. Sometimes, a hint of dusty blue or pale purple accentuates this soft, romantic boho theme.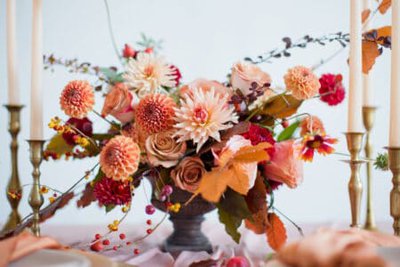 Blooms for a Bold Chic Boho Style
A bold yet chic boho wedding style, on the other hand, is colorful and vibrant. Jewel tones like ruby red, sapphire blue, and amethyst purple beautifully complement dahlias, garden roses, blue thistle, pink or red protea, dianthus, and chrysanthemums. Pair with brown or tan hues from pampas grass and feathers mixed with velvet fabrics and other textures to set the perfect tone for a bohemian autumn wedding.
Classic Flowers for Hippie Boho
If you love the retro spirit of the '60s and '70s, the classic hippie boho look complete with lace and macrame might be calling your name. Sweet boho blooms like daisies, baby's breath, roses, sunflowers, alstroemeria, craspedia billy balls, wax flowers, white Veronica, lavender, and wildflowers offer the quintessential hippie style. Picture an outdoor venue with a genuinely romantic ceremony in a wooded area or near a lake.
Tropical Flowers for Beach Boho
Anthuriums and orchids, whether pale pink and white or vibrant red and green, give this boho style its tropical and beachy vibe. Soft pink and white tones paired with dusty blue accents, driftwood, and bright, light tan, or whitewashed wood will give your wedding a natural coastal energy. Using bright vivid floral colors like red and orange paired with glossy green monstera leaves, pampas grass, and macrame offers a more tropical and energetic island boho feel.
Boho Blooms for Southwest Style
One of the trendiest boho wedding styles is southwest boho, with rustic, cowboy, and woodland influences. Popular flowers and elements for wedding bouquets include blue thistle, pampas grass, protea, dahlias, roses, succulents, lotus pods, curly willow tips, olive branches, and other desert florals coupled with lots of textures like cactus, wooden elements, rock formations, dried accents, and twine. Muted earthy tones, especially terracotta, truly give the southwest boho style its unique essence.
Luxurious Florals for L.A. Boho
Elegant bohemian weddings with white flowers and greenery are polished yet still free-spirited, emulating the energy of Los Angeles. Exquisite stems like white protea, orchids, roses, anemones, waxflower, and myrtle mixed with things like eucalyptus, magnolia leaves, feathers, white veronica, and white pampas grass create simply beautiful arrangements. Blending these blooms with flowing movement results in perfectly luxe boho wedding bouquets and floral designs.
Whether you desire a soft, natural boho wedding or prefer a bold, rustic style, the experts at Flora D' Amore are ready to bring your favorite bohemian aesthetic to life. Celebrate love, freedom, and artistic expression with flowers that are just as unique as you are.