While spring is certainly in the air, so too is love. With the subtle warmth of the sun making its return and outdoor activities popping back up on your social calendar, the opportunities for a fun spring proposal are endless and exciting. When the time comes to pop the big question this spring, take the time to plan a special date with your soon-to-be fiance because this moment is one that neither of you will ever forget. To help you start brainstorming the perfect spring proposal, the experts here at Flora D' Amore are sharing our five favorite places to ask "will you marry me?"
On a Hike
The best thing about spring is getting back outside to enjoy Mother Nature's gifts and rejuvenating fresh air. Find a tall mountain with a stunning view or a sweet stroll through the woods near a babbling brook or picturesque foliage. Taking your partner on a hike is not only romantic but provides the perfect secluded and serene scenery for a proposal. 
During a Baseball Game 
America's favorite pastime is an icon of the spring season. If your partner is a baseball fan or loves grand gestures, like seeing their photo on the Megatron, planning a proposal during a ball game might be right up their alley. Although a classic baseball game proposal is often viewed as a public spectacle, you can make it a private moment by popping the question in the parking lot, in the car, during the post-game fireworks, or quietly in the stands while you're both enjoying some nachos. 
By the Water
Proposing on a boat or sitting where the water meets the earth on a beach, lake, pond, or river is truly magical. The sight and sound of water enhance this dreamy moment with more romance, energy, and natural magnificence. Set up a luxurious picnic so you can dine alfresco or pack a blanket and candles so you can settle in, get comfortable, and set the perfect mood. Maybe you'll be joined by curious wildlife or graced with a breathtaking sunset that will add an extra element of surprise and brilliance.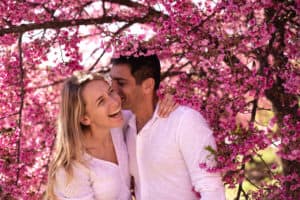 In a Botanical Garden 
There is nothing like being surrounded by colorful, lush, grand, and romantic flowers and plants that bloom and thrive in a botanical garden. We may be biased when it comes to florals, but most will agree that asking the big question in such a lovely, fairy-tale-like place is simply incredible. Make a whole day out of it by exploring the gardens together and making a reservation for an afternoon tea or lunch at their favorite spot. Don't forget to include a celebratory bouquet of flowers or a fresh spring floral centerpiece to put the finishing touches on your romantic lunch date. 
At a Festival
The springtime is full of lively and unique festivals, from art festivals to farmer's markets and music festivals to wine festivals and even balloon festivals. Plan a fun day with close friends or family who can be a part of your romantic moment and celebrate alongside you, with cameras at the ready. Or, make it a day date for just the two of you with a big surprise waiting for just the right moment. Proposing to your love at a festival that comes to town annually will be something you can remember each year and relive the storybook memory together.  
No matter where or how you choose to propose to your sweetheart this spring, be sure to make it meaningful. Select the perfect proposal setting by thinking about a place that means something to both of you, for instance where you first met, where you shared your first date or a first kiss, their hometown, or another location that holds a heartfelt memory. Then, be sure to reach out to the wedding design professionals here at Flora D' Amore to get the best assistance as you plan your amazing wedding and next chapter together.