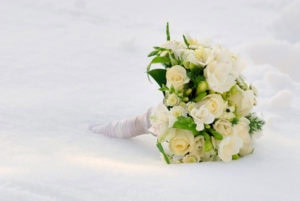 Winter is an excellent time to get married. Venues are less busy, leading to lower prices, and your friends and family are no longer overloaded with wedding invitations. As you plan your elegant winter wedding, remember that flowers can still play a major role in your decor, even though it's not the normal growing season.
White is a great color choice for your winter wedding. From white roses to white orchids, just about any flower you love is available in a beautiful white hue. Popular white flowers include gardenia, orchids, roses, lilies, the star of Bethlehem and stephanotis. Add some deep green accents and you can create a beautiful winter wedding that highlights the pure beauty of the season, without dipping too strongly into the Christmas and holiday colors.
White floral arrangements can go along with any theme. Whether your wedding is vintage chic, classic elegance or a more modern option, you can incorporate white flowers into the design in many different areas. When it comes to winter weddings, you simply can't go wrong with white.
Red does not h
ave to be connected to the holidays. Brilliant red roses, ranunculus and amaryllis can capture the beauty of the season without telling guests that your winter wedding is all about Christmas. When paired with whites and champagnes, these brilliant blossoms really stand out, helping your wedding be the elegant affair you wish it to be.
Red makes a stunning statement no matter what time of day, but it is a particularly beautiful color for a lovely winter evening wedding. When paired with elegant black suits and bridesmaid's dresses, red floral arrangements are classic and elegant.
Blue evokes feelings of calmness and cool temperatures. Since winter temperatures are cool, lively blue floral arrangements for your winter wedding can be a good fit. Whether you choose a bold, brilliant blue or a more subtle ice blue accented with white flowers, you will find that this color stands out beautifully against a winter landscape.
Whether you are looking for the soft, subtle white or the bold, brilliant reds or blues, you will find a number of flowers that shine in the winter months. Let Flora D' Amore by Stadium Flowers help you design a beautiful bouquet with the help of our award winning floral artists.
Visit us at the upcoming wedding shows:
Seattle Wedding Show: January 10-11
Northwest Bridal Showcase: January 17-18