That feeling of warmth and happiness when you gaze upon bright, vibrant hues and those nostalgic childhood memories that come to mind when spying certain patterns and textures are all a part of dopamine decorating. When filling your space with meaningful or sentimental items, various fabrics, fun shapes, and vivid colors, you can easily evoke joy and comfort. The same goes for designing large events, such as weddings, birthdays, anniversaries, baby showers, and holiday parties. Dopamine decorating is all about decorating with happiness, and flowers are a large part of that. Scientifically proven to have mood-boosting effects, big blooms and floral arrangements are one of the easiest ways to incorporate the trend of dopamine decorating into your next event. The experts here at Flora D' Amore are ready to fill your celebrations with sophistication, style, and smiles. 
Turn Your Event Into a Flower-Filled Garden
To begin the design process, choose a venue that gives you the ability to bring your wildest dopamine-decorating dreams to life. Whether it's an outdoor space with dreamy string lights or an indoor venue with character and charm, introduce lush flowers that transform the space into a vibrant garden. Hang cascading florals from the ceiling, especially above the dance floor, dining tables, or any other area where you want guests to gravitate. With hanging blooms and tall arrangements, adding smaller centerpieces, flower-filled tablescapes, and thoughtful floor decor is an excellent use of space to create interest at every level. Turn to grand, colorful flowers like peonies, ranunculus, and gerbera daisies to bring blissful energy and festive delight.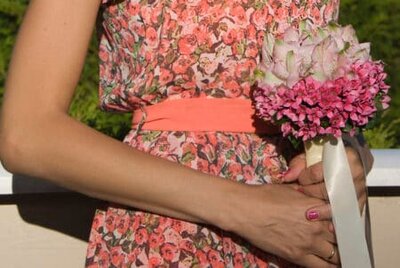 Let Dopamine Dressing Inspire Your Fashion Choices
No matter what kind of event you are hosting or attending, showcase your personality through dopamine dressing. Choose an outfit that is bold yet sophisticated, perhaps your favorite color or something with a bright and vibrant floral pattern. If these ideas sound too dramatic or simply don't resonate with your personal style, consider adding accessories that are bright, fun, and trendy. Whether it's an eye-catching clutch, hair clip, or floral piece like a flower crown, corsage, or boutonniere, let your outfit radiate happiness. 
Add Floral Accessories to Your Outfit
Incorporating flowers into any outfit for a special event can go in many different directions. Corsages and boutonnieres for the couple celebrating a milestone wedding anniversary, a sweet flower crown for the birthday girl or expecting mother, or floral bow ties to add some excitement to an outfit for your company holiday party are just a few examples of dopamine dressing and accessorizing. Dainty blooms like spray roses, dianthus, and craspedia billy balls paired with showy flowers like dahlias, protea, and sunflowers are always a great combination for floral accessories.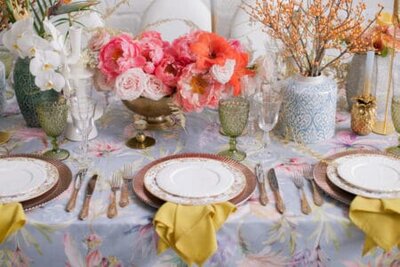 Bring Treasured Vases for the Florist to Fill
Bringing personality to your event can come from weaving your own personal items into your event decor. One way to do this is by using unique and eclectic vases that you have collected over the years for centerpieces and other floral arrangements. If these vases hold a deeper meaning or were passed down by a family member, even better – as finding happiness in sentimental objects is a core tenet of dopamine decorating. After your event, bring home the vases to reuse in your home decor or for future events. 
Decorate Desserts with Your Favorite Blooms
One of the most anticipated elements of any event is the cake and dessert table. While sweets alone bring a spike in dopamine, decorating desserts with your favorite blooms will take this enthusiasm and joy up a few notches. Consider your favorite childhood flowers, the roses you were given on your first date, or blooms from your wedding bouquet to adorn your dessert table and bring back fond memories with incredibly gorgeous stems. 
Use Colorful Flower Petals as Confetti
When it's time to toss the confetti in celebratory glee, swap the rice, paper, plastic, or glitter for something more sustainable and less messy – flower petals! Flower petals are a cute twist on traditional confetti that can be just as colorful while adding a little fragrance and fun to your event. Did we mention that throwing handfuls of petals in the air will look absolutely perfect in photographs? 
Get inspired and try dopamine decorating for your next big event or celebration with help from the experts at Flora D' Amore.